Thinking of moving? Put your trust in Smart Removals today!
Smart Removals has the expertise and specialised knowledge necessary for relocating office furniture.  Our team of expert office movers will ensure your office move is safe, prompt and efficient.
We are familiar with how a business or a company operates – our aim is to ensure that you and your staff return to work as soon as possible and with minimal productivity disruption. SMART office furniture movers will be personally involved in the move – this will guarantee an effortless transition from the old office to the new one. Use our experience to your advantage.
Clients moving office in Inverness will want to get back to work as soon as possible and this will be our major focus. Let us take charge of the planning to prevent any unpleasant surprises during the moving process.
We can assist in co-ordinating most aspects of your move including working with the building management, contractors, telephone equipment installers, technology consultants, etc. Smart Removals can also assist and guide your appointed move manager to ensure a smooth  transition to your new office.
Accommodating Schedule
In order to move your business with as little interruption as possible,  we can schedule your move after hours or over the weekend.
Moving Quotation:
We will gladly come to your office to meet directly. Our move coordinator will discuss all the details including items to be moved, floor plans, logistics and other pertinent issues.  After completing the onsite visit, Smart Removals will send you an estimate outlining our action plan and costs.
The initial issues to be addressed are :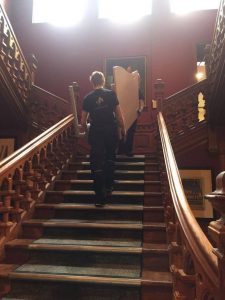 Locations (both current address and future address)
The quantity and number of items to be moved
Parking availability for the movers at both the old location as well as the new one
Navigation and Logistic issues (i.e. steep hills, narrow streets, stairs, elevators, floor plan, building layout)
Once all your office furniture and equipment has been transported, our team will offload them with the same efficiency and precision and place everything as designated by you accordingly. Our professional movers can also dispose of any packaging and other recyclables you may have.
To get started call us at 01463 230528 or email us at smartinverness@gmail.com with some basic information about your proposed office move and the request for a free onsite visit and removals quote. We will schedule one of our move coordinators to visit you at your location at your convenience. In most cases, the same move coordinator is assigned to run the job from the planning stages to the last piece moved for more accuracy and best performance. Call us today!
Don't make a move without us!
Good reasons to move with Smart Removals
We have hardworking full -time moving professionals, NEVER subcontracting to day labourers.
Our movers are held responsible for your belongings and handle all your possessions as if they were their own.